NEWS, EVENTS AND ACTIVITIES
MORPETH ART GROUP EVENTS CALENDAR 2018 - 19
Our last meeting in 2018 will be on Tuesday 11th December. Please bring edible snacks.
The 'Painting in the style of an Old Master' challenge will be judged then. This has been an exacting exercise but there should be some interesting results to be seen.
After the Christmas break, the spring term begins on Tuesday 8th January and carries on until 23rd July 2019, with the usual breaks for Easter and bank holidays.
——————————————————————————————————————————————
WINTER CHALLENGE - PAINTING IN THE STYLE OF AN OLD MASTER
All our artists rose to the challenge and submitted some superb work, making our judge, Ted Tallentyre's job very difficult. He chose Joy's 'Monet' for first prize, then Joe's 'Jeaurat' second, Anne came in third with her 'Gaugin' and Karen took fourth with her 'Van Gogh'.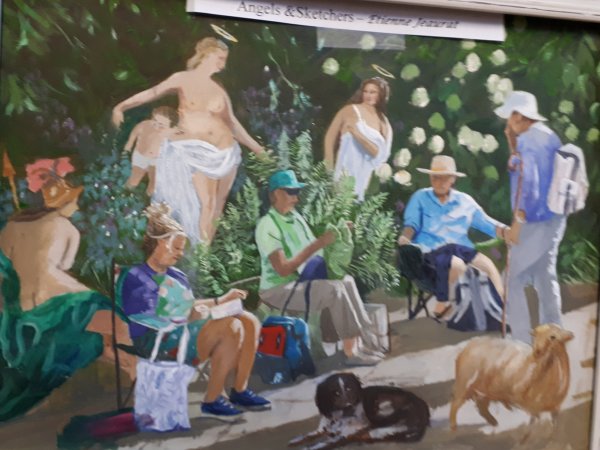 David won a prize for best newcomer.
GATESHEAD ART SOCIETY 70th ANNIVERSARY EXHIBITION 17th NOVEMBER - 23rd DECEMBER
Gateshead Art Society 70th Anniversary Exhibition at the Shipley. Any members or friends of members would be very welcome to come to the opening on Saturday 17th November. It is usually opened by the Mayor of Gateshead at 11.00am after which there will be a buffet and liquid refreshments.
PEN AND INK WORKSHOP 13th NOVEMBER 2018
Stephen from Lateral Art will be giving a workshop on pen and ink drawing on Tuesday 13th November. He will also be giving advice on recommended materials and be bringing some examples of pens and paper available to purchase in the shop.
ACRYLICS MINI WORKSHOP 6th NOVEMBER 2018
Angela Wilkie has a mini workshop on beginner acrylics on Tuesday 6th November. If you have any acrylics paints or inks please bring them along but we will be mainly working with just the three primary colours. A sheet or two of watercolour paper or canvas board if you prefer. A flat 1" brush or larger, a round (10) and a 1/4 inch flat if you have one. A rag, kitchen roll & the usual water container.
AUTUMN ART EXHIBITION
The preview will take place in Hepscott Village Hall on Friday evening, 19th October, 7pm to 9.30pm and paintings will be on view on Saturday 20th October, from 10am to 4pm.
There will also be refreshments available, a raffle and various painting activities for all.
Note for members
, please be at Hepscott Village Hall at 9.30am sharp, to submit and set up your paintings on the Friday morning. Please bring at least two paintings.
——————————————————————————————————————————————-
PAST ACTIVITIES
On July 3rd we had John Harrison to give a Pen and wash workshop. We had a full house and enjoyed his visit. Many of us learnt tips and had fun with John's carefree teaching methods.t
The Morpeth Northumbrian Gathering on April 6 to 8 has been another opportunity for the Morpeth Art Group to share our work with the public. It was very well received! Here are some pictures of the weekend.
March 6th was a great day. We had Joe Hush again! This time he worked on a seascape. He made it look so easy! we all were fascinated as he moved through the sketch stroke by stroke and made such a beautiful scene emerge. Thank you again to Joe for his generosity as he donated the finished work for our next exhibition raffle! Here are some photos of the day.
Congratulations to all Morpeth Art Group members on a very successful exhibition this past 28th and 29th of July!! We had great success overall with a very health attendance from family, friends and public in general which turned out in picture sales and interest. Group member and Mayor of Morpeth, Nic Best, officially open the exhibition. We were also very pleased to see Michael Ewart amongst our guests on Friday evening. He contributed with his oil painting as the first prize for the raffle. Thank you again to Michael for his generosity.
Thanks are given to Ted Tallantyre, who came to help in the setup of the pictures. He did a great job in presenting our work at its best. Thanks again!
This year, we had people voting for the picture of their choice which made them truly look at each painting and make a choice. It must be said, it was very difficult to choose one given the quality and variety of the pictures exhibited. Finally, it was Julia Chandlers, Water Edge, that received the prize! Congratulations to Julia!